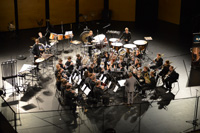 Conductor Geert Verschaeve
Braz'art, Harelbeke's brass band, was founded in 2007 by the Municipal Music Academy of Harelbeke and the Peter Benoit museum. The Academy wanted to provide the students with a channel through which they could fully indulge in brass music. The group was composed of both students, former students and brass music teachers. Representing Harelbeke as a musical city, Braz'art aimed at becoming an ambassador of brass music.
Braz'art explored the brass band industry - which was new territory for Harelbeke - by taking part in open competitions in Hull (U.K.) and Drachten (Netherlands) as well as the local open orchestra competition of VLAMO (the Flemish Organization for Amateur Music). As of 2010 the band qualified for the highly regulated Belgian National Brass Band Championships. Braz'art started in the 3rd division in 2010 and made its way up to the 1st division by 2016.
Next to entering in competitions, Braz'art has worked out diverse projects and organized numerous concerts. Some of the highlights are: In Remembrance, a project on the commemoration of WOI in cooperation with Belgian musician, actor, writer and singer Wim Opbrouck (a proud citizen of Harelbeke) and within the framework of the 2015 IBBA festival (the International Belgian Brass Academy); Peter Benoit Prom Night 2012; Comedy concert with Chilo Vanlerberghe and Bart de Wildeman; Braz'art at the Antwerp MAS museum; New Year's concerts at Sint-Niklaas and Berlare …
Braz'art is very proud to have been part of the renowned 2017 IBBA festival, where the band accompanied some of the top international brass soloists. By taking part in the 2017 IBBA festival and the 3rd edition of the Peter Benoit Prom Night, Braz'art really made its mark at its ten-year anniversary. The jubilee year was topped off with an 85 % score in the 1st division of the Belgian National Brass Band Championship.